Allow us to introduce ourselves ...
160 square meters, dedicated to passion.
It is to bring outside the work begun within, to share it, that Richard Vinatier created the ORIGINES Gallery in Arles, crossroads of civilizations, city of Art, Culture and History which, rich of a prestigious past, calls today for a future that is just as prestigious, and open to the whole world.
Texte
It is said that "at first she was shapeless and empty." This earth, on which we come to life, is the matter of everything. For the philosopher, it is a tangible reality, anything that can be the object of experiments. For Richard Vinatier, if there is one that has always fascinated him, it is that of the Creative Gesture, of the hand of Man who shapes matter to give it substance, to make it a reflection of the living, in short: to make it a work of art.
This way created, the object bears witness to its creator, links it to its sources, dialogues with us and, so to speak, with the world.
Entrepreneur, river ship owner ... Richard Vinatier has never ceased to travel through the greatest museums in the world, to collect rare pieces, to love them passionately.
From the curves of tribal art to the arabesques of Art Nouveau, all of these works most often attest to our origins. Because they summon us to the Universal, they place us, in fact, in a relationship that connects us, in a filiation.
He wanted his gallery to match the pieces he presents there: a unique place in the heart of the ancient city where the simple fact of pushing the door invites us to travel, to a journey in suspended time during which each piece, each work, whispers in our ears their fragment of history, their little story of eternity, .
Image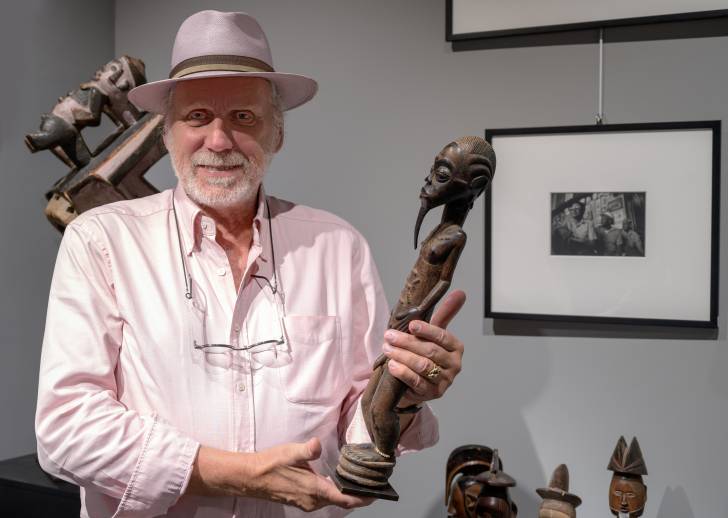 Titre
Joffrey-Pierre Soulages
Sous-titre
Head of Gallery
Texte
Joffrey-Pierre Soulages, Head of the Gallery, has always strived to create a link, seeking to capture this particularity of each and every one, which makes the individual part of the Universal.
If it is true that "Art is the shortest road from man to man", as André Malraux said, it is first of all through music - mainly on the piano - that Joffrey -Pierre Soulages, several times first prize at the Conservatoire, likes to relate to others.
Communicating is his greatest passion: to bear witness to oneself is to bear witness to others, to give in sharing, to "put in common". It has become his job, a job he does with enthusiasm, with all the authenticity of his personality.
At the service of the Minister of Culture, Head of the brand in a prestigious group in Paris or Expert with the Council of the European Union, today, it is the meeting of Richard Vinatier that is decisive .
Intimately convinced by the gallerist's daring vision, Joffrey-Pierre Soulages shares his desire to make it an exceptional setting for exceptional pieces.  And it is quite naturally that a real bond developed between the two men.
It is for these reasons that Joffrey-Pierre Soulages decided to join Richard Vinatier in this adventure, to put himself at his service, in yours, in that of Art and its expressions.
Image